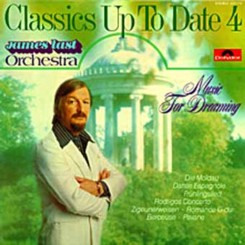 James Last werd geboren op 19 april 1929 als Hans (Hansi) Last in Bremen-Sebaldtsbrück. Met 16 jaar tekende hij zijn eerste contract als beroepsmuzikant. Zijn favoriete muziek werd de jazz, waar hij op Amerikaanse radiostations naar luisterde. Ook toonde hij grote interesse voor de Amerikaanse big bandmuziek. In het jaar 1946, James Last is dan 17 jaar, maakt hij - nog als Hans Last - samen met zijn broers Werner (op trombone en accordeon) en Robert (op drums) als bassist deel uit van het "Tanz- und Unterhaltungsorchester von Radio Bremen".
Met zijn broers Robert en Werner en een vriend, Karl Heinz Becker, richt hij het Last-Becker Ensemble op. Ook speelt Last voor de Berlijnse violist Helmut Zacharias, die hem vroeg voor zijn Jazz-combo.
Als jazz-contrabassist won Last begin jaren 50 verschillende prijzen. In de Duitse jazzpoll won hij in 1950, 1951 en 1952 de prijs voor beste bassist.
In 1963 verscheen bij polydor zijn eerste lp "Die gab's nur einmal" als Orchester Hans Last und die Rosenkavaliere (DEU).
In 1964 verscheen het vervolg "Die gab's nur einmal – Folge 2", eveneens als Orchester Hans Last und die Rosenkavaliere (DEU).
Onder het pseudoniem "Orchester Orlando" maakt hij de plaat Musikalische Liebestraume (DEU), voor de Britse markt uitgebracht als Dreaming of love (UK).
In 1965 verscheen het album Continental tango. Op de hoes van deze plaat vol langomuziek staat Orch.Cond. by H. Last (UK).
Met non stop dancing uit 1965 begint zijn carrière met het orkest James Last & His Orchestra. Non stop dancing bestaat uit medley's van populaire muziek in de stijl van de dansmuziek, ook wel happy party sound genoemd. Hij arrangeerde niet alleen honderden muziekstukken, maar componeerde ook zelf muziek. De bekendste nummers zijn:
- Fool, gecomponeerd voor de "King of Rock´n´Roll" Elvis Presley, die dit nummer voor zijn eerste RCA-plaat opnam.
- Games that lovers play (gecomponeerd in 1966)
- Happy Luxemburg
- De titelmelodie van bekende duitse tv-series zoals Der Landarzt en Das Traumschiff
- De herkenningsmelodie van de succesvolle muziekuitzending "Die ZDF-Hitparade" met Dieter Thomas Heck.
- filmmuziek bij duitse films zoals "Der Kapitän" (1971) mit Heinz Rühmann, "Morgens um sieben ist die Welt noch in Ordnung" (1968) en "Wenn süß das Mondlicht auf den Hügeln schläft" gebaseerd op een roman van Eric Malpass.
- Voor de ZDF-Sendung "Starparade" met Rainer Holbe (uitgezonden van 1968 tot 1980) komponeerde hij de Titelmuziek. Ook trad zijn orkest regelmatig tijdens de uitzendingen op.
In 1967 heeft Last gelijktijdig 4 albums in de britse album lijsten staan, nl.
This is James last (compilatie) (polydor 104-678)
hammond à gogo (polydor 249-043)
Non-stop dancing (polydor 236-203)
Love, this is my song (polydor 583-553)
Vanaf 1968 sleept Last diverse vakprijzen in beslag.
In 1972 wordt een beroemde tournee door de Sowjet-Unie gehouden (op dvd te zien)
In 1975 verschijnt zijn eerste plaat in de USA "well kept secret".
In 1997 sterft zijn vrouw Waltraud, waarmee hij 42 jaar lang getrouwd was geweest.
Zijn tweede vrouw is Christine. James Last en Christine leven in Florida en Hamburg.
Zijn eerste live-tournee was in 1968.